Prof. Marco Beccuti
Professore/Professoressa associato/a
SSD: INF/01 - informatica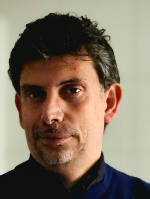 Contatti
+39 011 6706780
Dipartimento di Informatica - Università degli Studi di Torino
Via Pessinetto 12, 10149 Torino, Italy
Presso
Computer Science Department
Dipartimento di Informatica
Cellular and Molecular Biology
Corso di Laurea in Scienze Biologiche (L-13)
Laurea Magistrale (M.Sc.) in Stochastics and Data Science
PhD in Complex Systems for Quantitative Biomedicine
PhD in Computer Science
Curriculum vitae
Curriculum Vitae (0.2 MB)
Temi di ricerca
My research is currently mainly focused on computational modeling and simulation of complex systems.
In particular, I am interested in:
Stochastic and hybrid modeling languages;
Exact and approximated techniques to analyze the behavior of complex systems;
Applications to computational Systems Biology.
Moreover, I work on the design of bioinformatics algorithms and workflows to analyze deep sequencing data (i.e. genomic, transcriptomic, and single-cell data), emphasizing reproducibility aspects.
Gruppi di ricerca
Attività in agenda
Organi
Ricevimento studenti
Si riceve previo appuntamento telefonico o via e-mail.